Home Index -Other Stories List of famous crimes Top Roger Payne Alfred Taylor Robert Melias Colin Pitchfork James Hanratty
John Dunne Margaret Pereira Karl Landsteiner Ludwig Tessnow Paul Uhlenhuth Brian Culliford Alec Jeffreys Helen Priestly Pamela Coventry Walter Dinivan
The Development of Serology and the Discovery of DNA
In the nineteenth century, murder trials relied on the opinion of a doctor or police officer that stains were blood, and were indeed human blood. There was no scientific method of confirming such an opinion because the science of analysing blood (serology) had not yet been born. In 1866, for instance Inspector Richard Tanner was sent to Duddlewick to investigate the murder of 18-year-old Edward Edwards. The victim's uncle, John Meredith was charged and eventually acquitted, notwithstanding blood stains on his clothing which was sent to Professor Alfred Swaine Taylor at Guy's Hospital, the foremost equivalent of a forensic scientist of the day. At the inquest, professor Taylor explained that it was not possible to distinguish between animal and human blood.
In due course, the Kastle-Meyer test was developed. That test could confirm, at the scene of a crime, whether a stain was blood, but not whether the blood was human or animal. In 1901 Paul Uhlenhuth, an assistant professor at the University of Greifswald, Germany, built on the earlier work of a Belgian scientist Jules Bordet and developed the preciptin test which can show whether a blood stain is human or animal in origin. If protein from a chicken's egg is injected into rabbits, and their serum then mixed with egg white, the egg proteins separate and form a cloudy precipitate substance. This reaction is common to any animal and was the basis of developing inoculations and protective antibodies, but it was also a reaction which could help forensic science to determine whether blood was human. This preciptin test was used to investigate a child murder in Germany in 1901, and formed part of the evidence which resulted Ludwig Tessnow being executed for that crime in 1904.
Blood grouping (eg A, B, O) started to be developed by Karl Landsteiner in 1901 and medical knowledge gradually developed further. In 1925 it was discovered that blood groups could be determined from many people's body secretions such as saliva and urine, and by the mid-1960s the work of Drs Margaret Pereira and Brian Culliford at Scotland Yard's forensic science laboratory had applied the medical principles of analysing blood to the point where they could often link the identity of a suspect with a blood stain to a very high degree of accuracy.
The 1934 murder of 8-year-old Helen Priestly in Aberdeen was notable for its forensic science evidence, involving Sir Sydney Smith. The missing girl had had been found dead in a stairwell, apparently the victim of a sexual attack, but the lack of sperm apparent at the scene, and the nature of the injuries led Police to doubt this. A sack, used to wrap the body, contained washed cinders, and a woman Jeannie Donald was the only woman in the tenement block who washed ash from the fire to dispose of it. Some stains at her flat were found to be of blood group O, the same as Helen Priestly, but the presence of a rare bacterial infection was found on Jeannie Donald's floor cloths, exactly matching samples from the victim, who suffered from an enlarged thymus, making her more prone to infections and to fainting. One theory was that having been rude, and then been grabbed by Jeannie Donald, the girl had fainted, and that Jeannie Donald had then panicked and thought that she had killed the girl. She had then tried to make the victim appear to have been the victim of a sexual attack.
Some people's body fluids were capable of being analysed to determine their blood group, but 14% of the population were not, and known as non-secretors. In January 1939, for instance, when Leonard Richardson was suspected of the murder of 14-year-old Pamela Coventry in Hornchurch, Essex, one of his cigarette butts was analysed to establish whether it matched a butt found at the scene, but he was found to be a non-secretor, a fact confirmed when his handkerchiefs were examined. On his raincoat were spots of blood, which were human, but these, at the time, were too small to analyse in detail. Although the cigarette papers and tobacco matched that used by Richardson, his prosecution for murder failed for lack of sufficient evidence.
Detective Chief Inspector Leonard Burt had better success with cigarette butts in May 1939 when investigating the murder in Bournemouth of Walter Dinivan, who had been found murdered in his home with two glasses which suggested that he had been entertaining his killer. Whilst conducting an interview, Burt preserved the cigarette butt of a suspect Joseph Williams who was not only a secretor, but was of an unusual blood group AB, the same as that found at the flat. His thumb print was also found in the flat. Williams knew Dinivan, but the jury acquitted him.
In 1968 the murder of Claire Josephs was solved almost entirely by forensic science. The victim had a blood group which was found in only 0.6% of the population in the country, and the suspect Roger Payne's blood group was found in only 4.4% of the population. A handkerchief was found on which both groups were found, and bloodstains of Claire Joseph's group were found in Payne's car. There were also very distinctive fibres from the victim's dress which had transferred on to Payne's clothing, and he was duly convicted. By 1974 some samples could be shown as a 1 in 10,000 chance a blood stain did not belong to a given suspect. At the scene of the Laitner family murder in Sheffield in 1983, a blood stain was found which would be found in only 1 in 50,000. the laboratory had already analysed the blood of a local criminal Arthur Hutchinson, and his palm print was also found at the scene.
DNA is a more fundamental part of living tissue which carries the genetic information of a human being. Identical twins have the same DNA (but different fingerprints) but otherwise DNA can now identify a suspect with absolute certainty, and samples can be taken from flesh, bone, hair roots and body secretions such as sweat. It is also possible to determine that a perpetrator must have been closely related to somebody's DNA on the database, which in itself can narrow down the search for the culprit (familial DNA).
The first notable application of the technology was a Leicester case when Professor Alec Jeffreys developed the scientific method which proved the innocence of a 17-year old kitchen porter who had "confessed" to the murders of Lynda Mann (1983) and Dawn Ashworth (1986) and thereby confirmed circumstantial evidence against him. The DNA evidence proved that he could not have been the murderer, however, and he was discharged at Leicester Magistrates Court on 21st November 1986.
The police investigation resumed, now using DNA technology as the means of screening all men in the area, and eventually Colin Pitchfork was identified as the real perpetrator. DNA had proved both innocence and guilt in this landmark case.
The first conviction using DNA was at Bristol Crown Court on 13th November 1987 when Robert Melias pleaded guilty to rape after scientists calculated that the chance of the sample from the scene not coning from him was 1 in 4 million of the male population. It is possible, however, that a DNA paternity test was responsible for the conviction at the Old Bailey in late summer 1987 of a man for unlawful sexual intercourse, as mentioned in The Blooding by Joseph Wambaugh (p 250 Bantam 1989)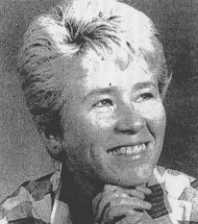 Lorraine Benson
The Christmas-time1988 murder of 22-year old Lorraine Benson in South-West London in a stranger attack was solved by DNA. Traces of saliva found at the scene could not be blood-grouped by Scotland Yard's forensic science laboratory, but were then passed on to the lab's DNA unit. A man's handkerchief found at the scene provided a good sample for DNA testing of the suspect and it also contained blood proved as Lorraine Benson's. In February 1989, a John Dunne was arrested for an unrelated case of attempted rape, and the sample taken from him was analysed by the laboratory. The mucus on the handkerchief matched his DNA to the degree that there was only a 1 in 1,497,000 chance that he had not been at the scene of Lorraine Benson's murder. Dunne admitted the murder and was sentenced to life imprisonment at the Old Bailey.
The first database of criminals' DNA was set up the the Forensic Science Service in 1995, and by 1999, matches between crime scenes and suspects had reached about 500 per week, many of them connected with burglary and other crimes not involving violence.
In 2001 a DNA sample from the exhumed body of James Hanratty was found to match samples apparently found on two exhibits from the Michael Gregsten A6 murder case, thereby confirming his conviction in a contentious murder case of many years' standing.
Back to top Home Picture Gallery Home Page Index to Stories from the Yard About Us Contact Us Encyclopedia Good Books to read