Persistent heartburn?

See your GP!

Click here to see why!
The notorious Dr Crippen
Hawley Harvey Crippen was an American, born in Michigan in 1862, who qualified as a doctor in 1885 and worked for a patent medicine company. He had come to England in 1900 and lived at 39 Hilldrop Crescent, Holloway from where he again worked in the patent medicine business. He lived, unhappily, with his second wife Cora Turner, who was trying to make her way as a music hall singer under the stage name of Belle Elmore.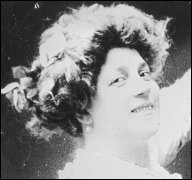 Cora Crippen
Early in 1910 Belle disappeared, after having given notice of withdrawing her money from a joint deposit account. Crippen's remuneration from Munyon's patent medicine company had been transferred from salary to commission only, and he was therefore likely to have been in financial difficulty, especially as he had been entertaining his mistress and typist, Ethel le Neve, in hotels.
Ethel produced two letters, apparently from Cora, to the Music Hall Ladies' Guild, resigning her position as she had had to go to America. But the letters were not in Cora's handwriting.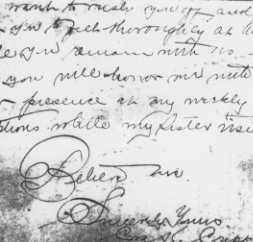 A letter signed by Cora Crippen
Crippen moved Ethel into the house, and she began to wear his wife's clothing and jewellery. Belle Elmore's wondered what had happened to her, and Crippen had been telling them that she had moved back to the USA to see a sick relative. The friends went to Scotland Yard to report their suspicions.
Detective Chief Inspector Walter Dew visited Crippen, but Crippen claimed that his wife had eloped with a lover. A search did not reveal anything suspicious, and Dew withdrew to make further enquiries.
Worried by this turn of events, Crippen and Ethel le Neve left the country for Antwerp, and then embarked on ss Montrose bound for Canada in the names of Mr and Master Robinson, with Ethel in disguise as a boy.
When the police returned to Hilldrop Crescent amore thorough search was undertaken and parts of a female body were found buried beneath the cellar.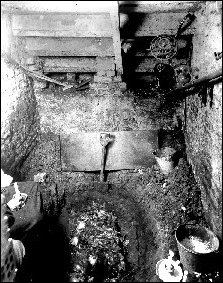 The cellar at Hilldrop Crescent
Dr Bernard Spilsbury, later to become the famous pathologist, identified the remains as that of Mrs Crippen from a piece of abdominal scar tissue, and found that there were traces of a poison hyoscene in the body.
The rest of the body was never found, despite further through searches and digging up the garden.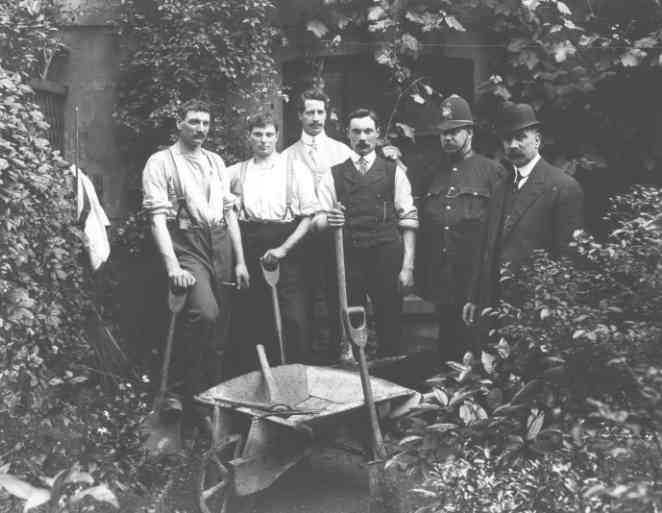 The garden at Hilldrop Crescent
Meanwhile Crippen and Ethel le Neve were circulated as wanted.
Captain Kendall, the master of the ss Montrose, became suspicious of two of his passengers, a Mr John Robinson and his "16-year old "son" and used the new telegraph system to alert his ship owners of his suspicion that they were Crippen and Ethel le Neve. This was the first example of a ship-to-shore telegraph being used to catch a fugitive criminal.
Walter Dew took a faster ship, the ss Laurentic, and arrested Crippen before he could land in Canada, to the rapt excitement of the public who had been kept informed of every move by the excited press.
Crippen appeared at the Old Bailey and claimed that even if the remains in the cellar had been a woman, or even of Belle Elmore, they must have been buried there without his knowledge, but Bernard Spilsbury's evidence proved the identity of the remains, and the jury convicted him of murder after 5 days of evidence and 27 minutes of consideration. Ethel le Neve was tried separately and acquitted.
The National Archives has now published a book on Crippen as part of its Crime Archive series. Written by Katherine D Watson, an expert on crime history and poisoning crimes, it contains a number of images from the National Archives files, and costs £7.99. ISBN 978 1 905615 15 5

Available from The National Archives bookshop.