George Joseph Smith and the "Brides in the Bath" case
It was a report in The News of the World about the tragic inquest of Margaret Lloyd, a bride who had drowned in her bath in Highgate a week before Christmas 1914 which prompted a Mr Charles Burnham and a Mrs Crossley to go to the police, and which brought Divisional Detective Inspector Neil of the Metropolitan Police to investigate a complicated case of bigamy and murder.
Mr Burnham was a Buckingham fruit grower whose 25-year old daughter Alice had married George Smith in Portsmouth in November 1913, despite parental objections. The couple went on a holiday to Blackpool where Mrs Crossley had been their landlady. Alice had also drowned in her bath just on 12th December 1913, not long after her wedding in October of that year.
When John Lloyd attended his solicitor's office to receive the money due to him as the result of the death of Margaret Lloyd (nee Lofty) the police were waiting for him, and he later admitted that he was the same man George Smith who had married Alice Burnham.
The year before Alice Burnham's death in Blackpool, Bessie Munday had died on 13th July 1912 whilst taking a bath in Herne Bay where she was staying with her husband, Henry Williams, whom she had married in Weymouth in August 1910. "Henry Williams" transpired to be none other than George Smith.
George Joseph Smith
Enquiries showed that Smith had conducted seven bigamous marriages between 1908 and 1914.
At the age of 26, in January 1898, using the name of George Love, Smith had married, legally and for the first time, 18-year old Caroline Thornhill in Leicester. They moved to London, and she worked as a maid for a number of employers, stealing from them under her husband's tuition. Caroline Love was arrested in Worthing, trying to pawn some silver spoons, and she was sent to prison for 12 months. On her release she incriminated her husband, who was then jailed for two years in January 1901. On his release , Mrs Love fled to Canada.
In June 1908 Smith met a widow from Worthing, Florence Wilson, and married her three weeks later. By 3rd July he had left her after taking £30 she had withdrawn from her savings account, and selling all her belongings.
By 30th July 1908 he had married Edith Pegler in Bristol who had replied to his advertisement for a house keeper. Then, in October 1909 he married Miss Sarah Freeman, using the name of George Rose. He also married Alice Reid in September 1914, using the name of Charles Oliver James.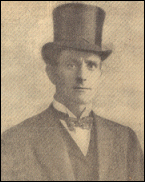 Smith more smartly attired!
Smith apparently had a masterful, hypnotic way with some women, a trait which was only exceeded by his ruthlessness in acquiring their money. When he appeared at the Old Bailey, charged with murdering Alice Burnham, Bessie Munday and Margaret Lloyd, Detective Inspector Neil demonstrated to the jury the method of drowning his victims by raising their knees whilst they were in the bath. His assistant, a nurse in a bathing costume, herself required artificial respiration after the court room demonstration, and Smith was duly convicted.
Smith's trial took place during the dark days of the First World War, and the Judge, Mr Justice Scrutton, remarked upon the irony that "..while this wholesale destruction of human life is going on, for some days all the apparatus of justice in England has been considering whether one man should die..." The jury returned their Guilty verdict in 22 minutes, and Smith was executed on Friday 13th August at Maidstone prison.
Caroline Thornhill, whom Smith had married legally, was now a widow, and she married a Canadian soldier the day after Smith's execution.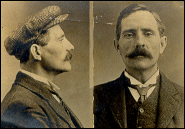 Smith in 1915