Top Home Other Stories Biography
Sir Edward Bradford
Sir Edward Bradford was a distinguished Victorian who served as Commissioner from 1890 to 1903, after many years in India and after surviving a mauling by a tiger and a ship wreck.
He was born in July 1836, the son of a clergyman, and went to school at Marlborough College and two establishments at Sydenham and Blackheath. In 1853 he was an officer cadet in the Honourable East India Company and by the time of the Indian Mutiny he found himself as part of a cavalry regiment known as "Mayne's Horse", founded by Major Henry Otway Mayne in December 1857. See http://www.britishempire.co.uk/article/palehorse/maynehenry.htm for details of Major Mayne whose son Otway Mayne later became Chief Constable of Buckinghamshire.
In 1863, Bradford was out tiger hunting in India and was mauled by a tiger. Evelyn Wood, later a Field Marshall, wrote a letter home describing the incident. Bradford lost his left arm, had an operation by the road side, and thereafter rode a horse holding the reins with his teeth.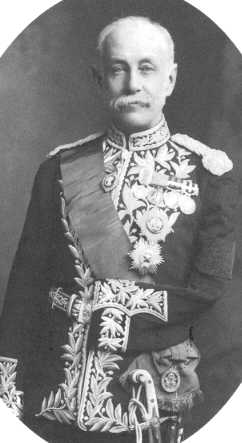 Sir Edward Bradford
By April 1887 Sir Edward had been knighted and was on his way home from India when he was ship wrecked on ss Tasmania off Corsica, losing all his possessions. The epic feat endured by the passengers sheltering overnight in the stern of the storm-swept deck of the half-sunken ship was described at the time in The Evening Standard.
As Commissioner, Sir Edward moved into the new Norman Shaw headquarters building on Embankment, dealt with a police strike, and oversaw the introduction of the first motor taxi cabs in London. He was also Commissioner for the introduction of the Fingerprint Bureau introduced by Edward Henry, another ex-India officer. He was ADC to Queen Victoria, who consulted him about problems, and took him on her tour of India in 1888-9. He was an extra equerry to King Edward VII from 1903 - 1910, and died in 1911, soon after his retirement.
Back to top More Stories Home Encyclopedia Contact us